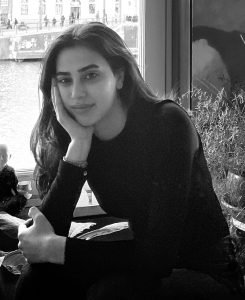 Born in Gaza, Leyan AlMaqousi has made it her life's mission to understand the intricate webs of law and justice that can shape nations and impact lives. Her roots in a land often at the epicenter of conflicts have steered her toward a deep-seated passion for law and justice, motivating her to be involved in social causes from a young age. She is currently a fourth-year LLB undergraduate at IE University in Madrid, Spain and has received the Academic Excellence Scholarship and has also completed a dual degree in Civil and English Law at the University of Law in the UK, graduating with an Upper Second Class Honours Distinction.
Leyan has a multifaceted professional background that extends beyond the classroom. She currently serves as a Law Clerk at the Qatar International Court and Dispute Resolution Centre in Doha, where she is part of the Registry team. Previously, she worked as a research assistant at IE University, focusing on topics like art, aesthetics, and international justice, and exploring the idea of global citizenship as a precondition for accessing human rights.
Passionate about human rights and social justice, Leyan has contributed to various NGOs. She drafted a legal memorandum to the United Nations to improve access to special education for children with disabilities, and worked with the Max Planck Foundation to provide legal assistance in Sri Lanka aimed at capacity-building among judges and lawyers. Set to graduate from her second degree in May 2024, Leyan is already positioning herself as an emerging voice in the spheres of law, human rights, and international justice.